Ties for Steel Frames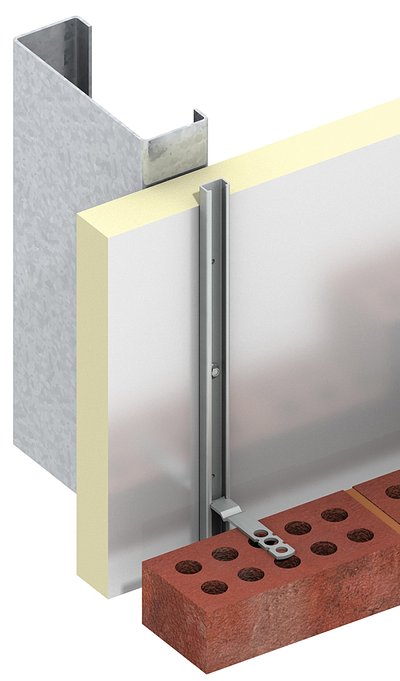 Ancon 25/14 Restraint System
The Ancon 25/14 channel system is designed to tie brickwork to steel frames including steel studwork. Self-drilling screws fix through the channel and the insulation material, into the steel. Once the channel is installed, Ancon SD25 wall ties can be positioned at any point along its length and are built into the bed joints of the outer leaf of brickwork. The spacing of ties is based on the height of the building and its geographical location.
25/14 channel is supplied in lengths of 2700mm and features pre-punched holes at close centres to ensure a fixing position is always located near the end, even when it is cut on site. Screws are available to accommodate a combined backing board and insulation thickness of up to 220mm and a steel thickness from 1.2mm to 3mm. See technical literature for screw references and vertical fixing centres. Leviat recommends the use of stainless steel fixing screws but other screws are available.
The channel has a 16mm opening to easily accommodate a drive socket and washer for the fixing screws. This system has been independently tested.
Leviat recommends that SD25 wall ties achieve a minimum embedment of 55mm in the outer leaf of brickwork. They are available in lengths from 100mm to 300mm to suit open cavities up to 259mm.
As a future-oriented, innovative company, Leviat focuses on the ever-changing requirements of the industry, and our latest development combines the portfolio of Ancon and Halfen Tension Systems to ensure we meet the individual requirements of our customers.
Leviat showcased some of Australia's most trusted and innovative connecting, fixing and anchoring solutions at Sydney Build 2022.