KSN Anchors
Independent tests have verified the enhanced performance specifically offered by Ancon KSN Anchors when used in slab-to-wall moment connections.
Our research enables engineers to design construction joints without the restrictions of traditional continuity systems or the awkward anchorage lengths demanded by reinforcing bar couplers.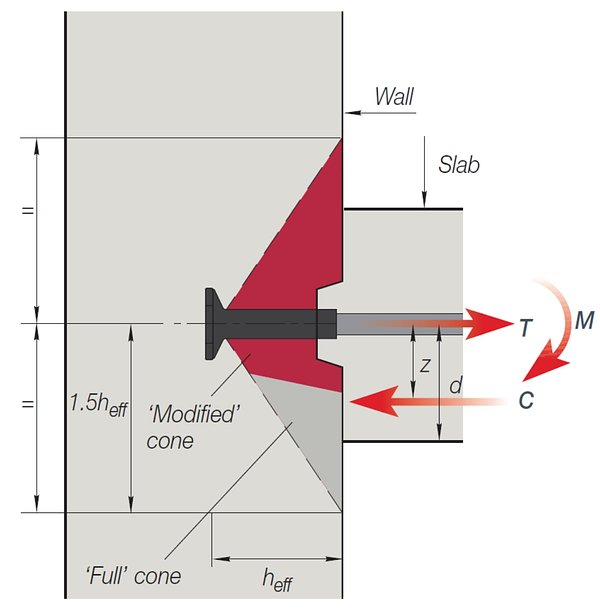 Design freedom
Enhanced performance
Independently tested
Variable bar length
Variable anchor spacing
Less congestion
Safer, faster installation
No bar straightening
KSN Anchor Design Program
Our free design program is available to download to simplify the specification of Ancon KSN Anchors. This easy-to-use interactive software enables calculations for moment connections and tension only applications.
The use of Ancon KSN Anchors with BT threaded reinforcing bars can simplify concrete design at construction joints, typically in wall-to-slab applications.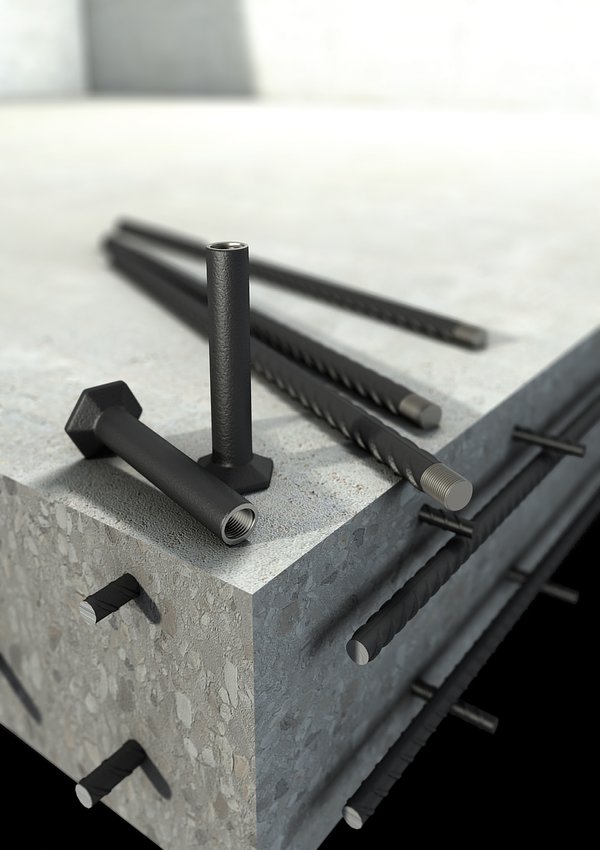 The anchor is cast into the face of the concrete wall. When the formwork and thread protection is removed, the reinforcing bar is screwed into the anchor. Once all other reinforcement is installed, the adjoining slab is cast to complete the installation.
This system eliminates the drilling of formwork or concrete and the dangers associated with projecting bars and on-site bar straightening. It replaces cogged or hooked bar ends simplifying bar scheduling and can be used to minimise congestion in the wall.
In addition to their use in direct tensile applications, KSN Anchors have been independently tested in moment connections where they provide enhanced performance.
KSN Anchors may also be suitable for other applications where a cast-in threaded insert is required.
System Components
KSN Anchor
The KSN Anchor is machined from tough, high reliability, hot forged Cr-Mo alloy steel, with minimum 15% elongation, to form a blank that is subsequently hot forged to form the head. The anchor head exceeds the requirements of AS3600.
There are eight anchors in the KSN range to suit the requirements of most applications.
KSN Threaded Anchor Dimensions
| Anchor Ref. | Anchor Length mm | Nominal External Diameter mm | Metric Thread mm | Nominal Head Width mm | Nominal Head A/F mm |
| --- | --- | --- | --- | --- | --- |
| KSN12S | 115 | 21 | M14x2.0 | 46 | 40 |
| KSN12M | 150 | 21 | M14x2.0 | 46 | 40 |
| KSN16S | 130 | 28 | M20x2.5 | 61 | 53 |
| KSN16M | 160 | 28 | M20x2.5 | 61 | 53 |
| KSN16L | 190 | 28 | M20x2.5 | 61 | 53 |
| KSN20S | 150 | 32 | M24x3.0 | 75 | 65 |
| KSN20M | 190 | 32 | M24x3.0 | 75 | 65 |
| KSN20L | 230 | 32 | M24x3.0 | 75 | 65 |
Note: Ancon KSN Anchors for bar diameters 24, 28 and 32mm are available on request.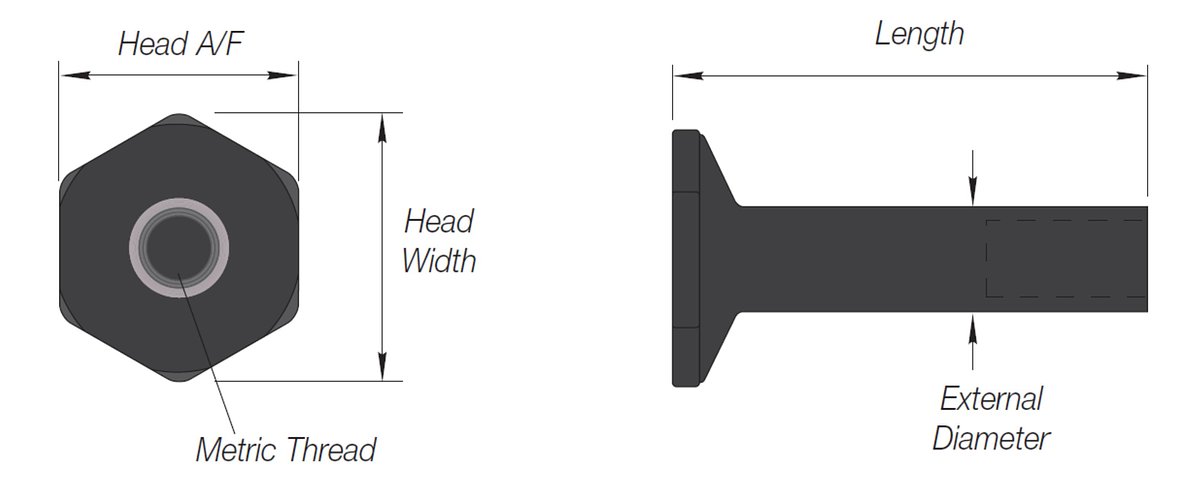 Ancon BT Starter Bars
Ancon KSN Anchors work in conjunction with Ancon BT Starter Bars.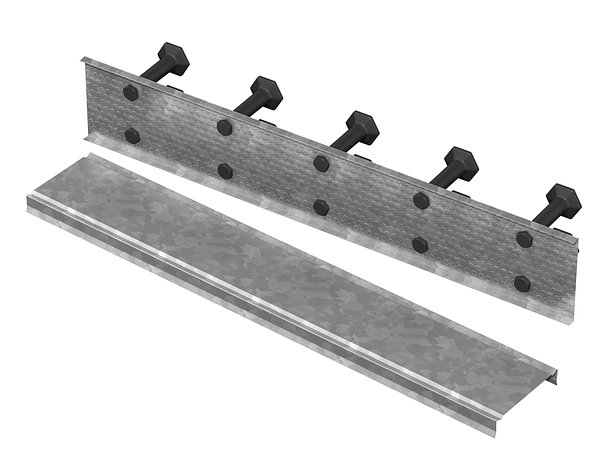 KSN Anchor Box
A galvanised steel casing can be supplied with KSN Anchors installed at the specified design spacing. The unit is sealed at each end to prevent the ingress of concrete and the steel is dimpled to provide a key for the concrete. Upon removal of the formwork, the casing remains embedded in the wall with the cover in place to prevent thread contamination. The cover is removed to install the threaded bars and the rebate formed by the boxes is filled with concrete when the adjoining slab is poured. This method provides KSN Anchors with an additional 36mm of embedment making it the highest load capacity installation method available, and suitable for moment connections.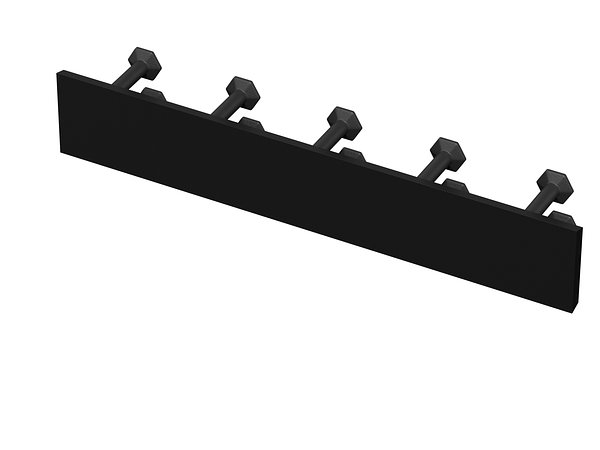 KSN Anchor Block (Rubber Carrier)
This is a reusable plastic mould that is provided with mountings for the KSN Anchors at the specified design spacing. The blocks are loaded with KSN Anchors and fixed to the formwork where required. The block protects the internal threads of the anchors until it is removed, so should be left in position until this time. Once removed, the block may be reloaded with KSN Anchors ready for use on the next set of formwork or may be retained for use on future projects. The block provides the KSN Anchor with 5mm of additional embedment by offsetting it from the formwork face. This offset and surrounding rebate increases the capacity and makes this installation method suitable for moment connections.
Performance data for this system and information on specifying and ordering is given in the 'KSN Anchors' brochure available to download below.
Building Information Modelling
For a BIM Object of this product, please click here
As a future-oriented, innovative company, Leviat focuses on the ever-changing requirements of the industry, and our latest development combines the portfolio of Ancon and Halfen Tension Systems to ensure we meet the individual requirements of our customers.
Leviat showcased some of Australia's most trusted and innovative connecting, fixing and anchoring solutions at Sydney Build 2022.