Design Program
The latest version of Leviat's Ancon Shearfix software is 6.2.2
See below for instructions on downloading and installing the software.
For information on the enhanced functionality offered by the latest version, please click here.
Ancon Shearfix
Ancon Shearfix is designed to suit the specific requirements of each application.
Our design program simplifies the specification and ordering of a Shearfix System. This easy-to-use program allows the optimum design to be determined and generates a printable calculation sheet, a DXF file and a parts list of the specified layout. The program allows analysis to AS3600 (Lim and Rangan), ACI 318-19 and BS EN 1992 (Eurocode 2).
Solutions can be created for a wide range of column sizes, shapes and locations including corner and edge columns with and without offset. Where there are openings close to the column, a section of the slab will be ineffective and perimeters will need to be reduced; the Ancon design program allows these reductions to be applied to each perimeter.
The program requires the following information and is requested in a logical sequence as the user works through the 'input' tabs:
Column shape (circular and rectangular)
Column dimensions
Column location (internal, edge, corner or re-entrant corner)
Dimension to concrete edge (for offset corner and edge columns)
Slab thickness
Concrete grade
Stress through pre-compression
Reinforcement size and spacing
Slab reinforcement and cover
Size and location of slab openings
Shear load
Applied moments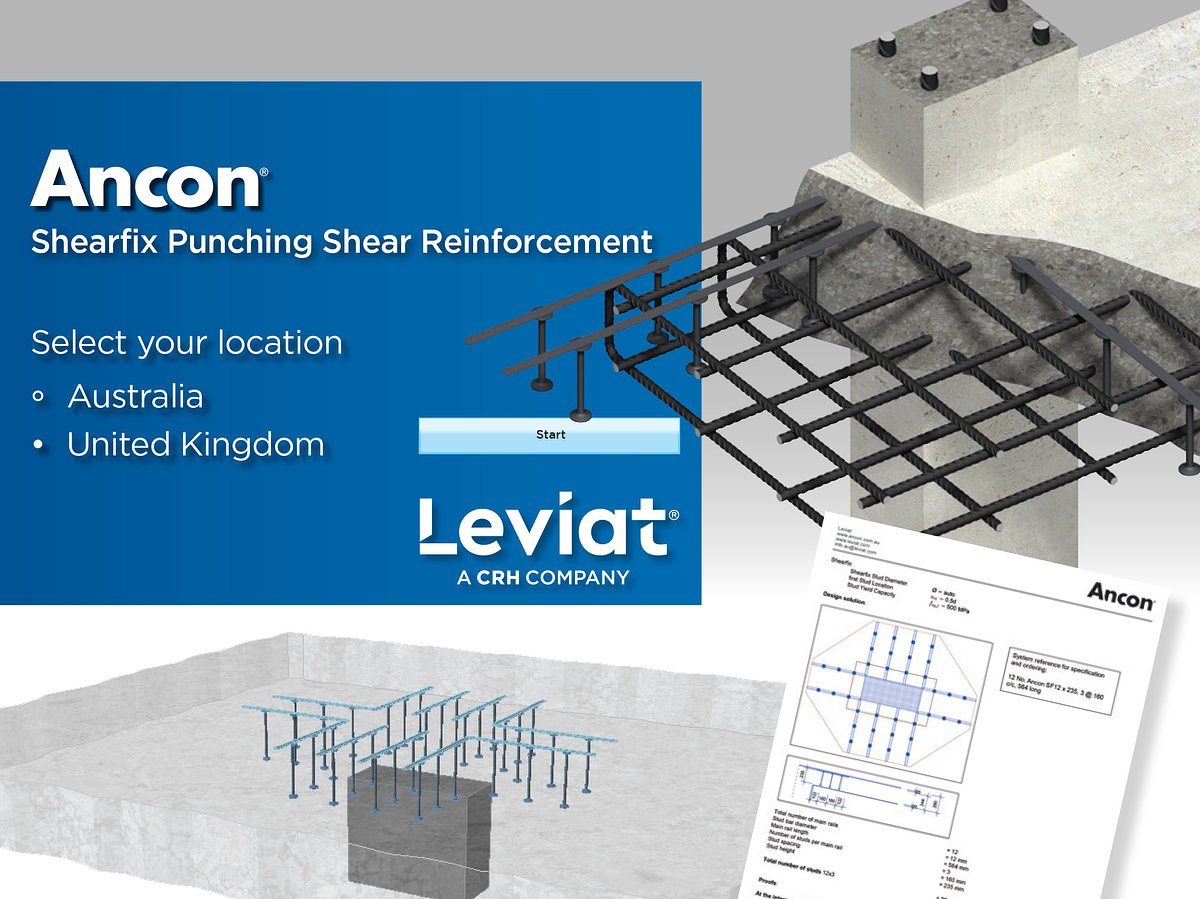 Instructions for Downloading & Initial Use
By downloading this software you agree to Leviat's End User Licence Agreement.
Please follow these instructions when installing and using the program for the first time:
Download the program above.
Once you have completed the registration form, a zip file called 'Shearfix 6.2.2' will be made available for download. Save the file to your Desktop.
Right-click this folder and select 'Extract All'.
Select your Desktop as the specified destination for the files. A second folder will be created called 'Shearfix 6.2.2'. Double-click to open this folder.
Double-click the file within this folder. This initiates the installation of the program. We recommend that users accept all default settings by clicking 'Next' as prompted. On the final screen choose to 'Launch the Program Now'.
The Shearfix program is now located in a folder called 'ShearFix' which can be found in Program Files on your hard drive. If selected during installation, a shortcut will now be on your Desktop. If not, to create a shortcut on your Desktop, right-click the file called 'ShearFix' and select 'Send To Desktop'.
The two folders called 'Shearfix 6.2.2' can now be deleted from your Desktop.
Please note
You must have 'Administrator' rights to your computer to install the program, and for initial access to the Help manual. You may require assistance from your IT support team.
As a future-oriented, innovative company, Leviat focuses on the ever-changing requirements of the industry, and our latest development combines the portfolio of Ancon and Halfen Tension Systems to ensure we meet the individual requirements of our customers.
Leviat showcased some of Australia's most trusted and innovative connecting, fixing and anchoring solutions at Sydney Build 2022.