Design Considerations
The maximum size of a masonry panel should be restricted to limit the effects of differential movement. This is particularly important if clay brickwork is used with concrete blockwork and a concrete frame. To allow for a vertical movement of around 1mm per metre, in buildings exceeding four storeys or 12 metres in height, movement joints are generally positioned at every storey or every second storey.
Support Detail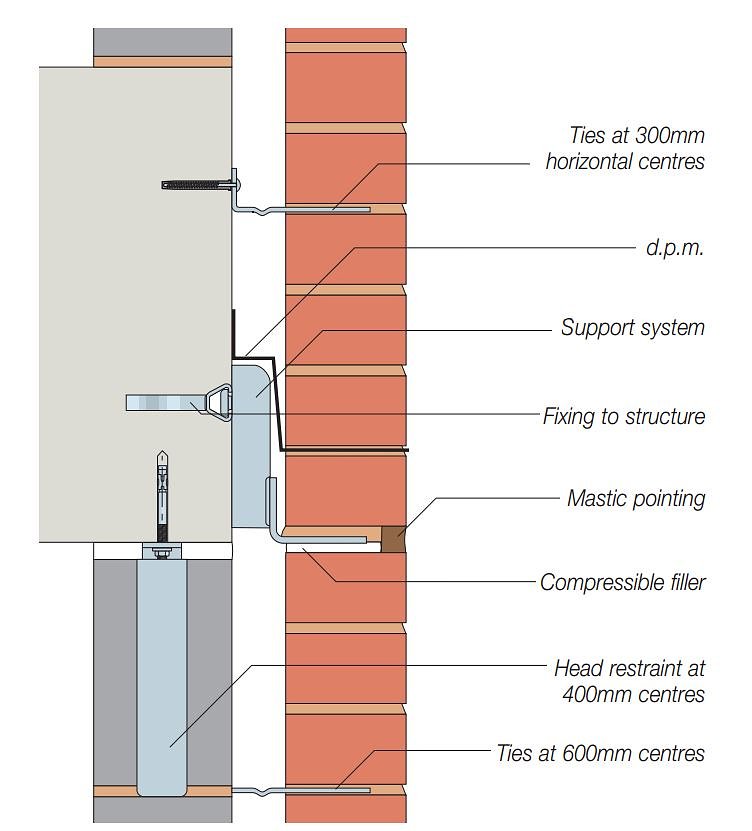 Horizontal Movement Joints
The support will be positioned directly over the horizontal movement joint. The joint will often incorporate a compressible filler and should be of sufficient size to allow for expansion of the masonry below and any shrinkage or deflection of the structural frame. The underside of the support system should be positioned around 2mm above the joint to allow for the support leg to settle when supporting the brickwork above.
The clear joint below should be at least 10mm where there is a single storey height of brickwork below the support system. Where there are two storeys or more of brickwork below the support system, the clear joint should be sufficient to accommodate all expected movements. This may result in clear joints in excess of 10mm. Damp-proofing is normally located at the support position. Wall ties should be incorporated within 300mm above and below the support.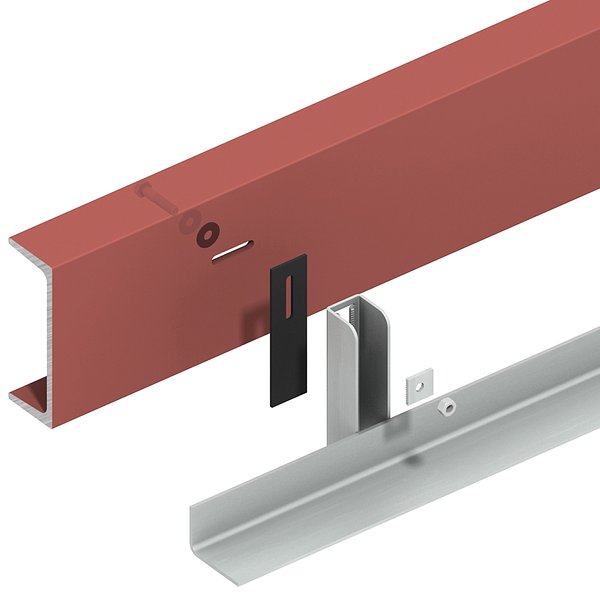 Tolerances
It is important to select the correct support system to ensure that building tolerances can be accommodated. Adjustment will be required in all three planes. Ancon brackets have a slot at the back to provide vertical adjustment. A serrated surface prevents any slip. Longitudinal adjustment is provided by an Ancon cast-in channel in concrete structures, or horizontally slotted holes in steel framed structures.
The maximum thickness of shims should not exceed the outside diameter of the fixing or 16mm whichever is less.
Corrosion Resistance
Ancon Support Systems are manufactured from grade 1.4301 (304) stainless steel and will be suitable for most building applications. In particularly corrosive environments, or where part of the support will be visible, grade 1.4401 (316) should be considered. These are both Austenitic grades of stainless steel which have a thermal conductivity of 17W/mK.
Thermal Breaks
Ancon Masonry support systems from Leviat can now be supplied with Thermal Breaks to minimise heat loss through cold bridging, and improve the energy efficiency of your building project.
Fixing Methods
There are various methods of fixing Ancon Support Systems to both concrete and steel structures. Visit the Channel and Bolt fixings section for more information.
As a future-oriented, innovative company, Leviat focuses on the ever-changing requirements of the industry, and our latest development combines the portfolio of Ancon and Halfen Tension Systems to ensure we meet the individual requirements of our customers.
Leviat showcased some of Australia's most trusted and innovative connecting, fixing and anchoring solutions at Sydney Build 2022.