Soleil Tower, Brisbane
Ancon KSN Anchors, Keybox and BT Couplers ensure continuous wall-to-slab reinforcement for 74-storey Soleil Tower, Brisbane's 4th tallest building.
A mixed development of 464 luxury apartments with retail units below, Soleil is an outstanding feature of the Brisbane skyline. Constructed around a concrete frame on a very limited footprint, it's slender form, unusual elongated hexagonal plan and eye-catching glazed exterior give it a unique presence, whilst its 74 above-ground storeys, soaring to a height of 243-metres, ensure its place as one of the City's four tallest buildings.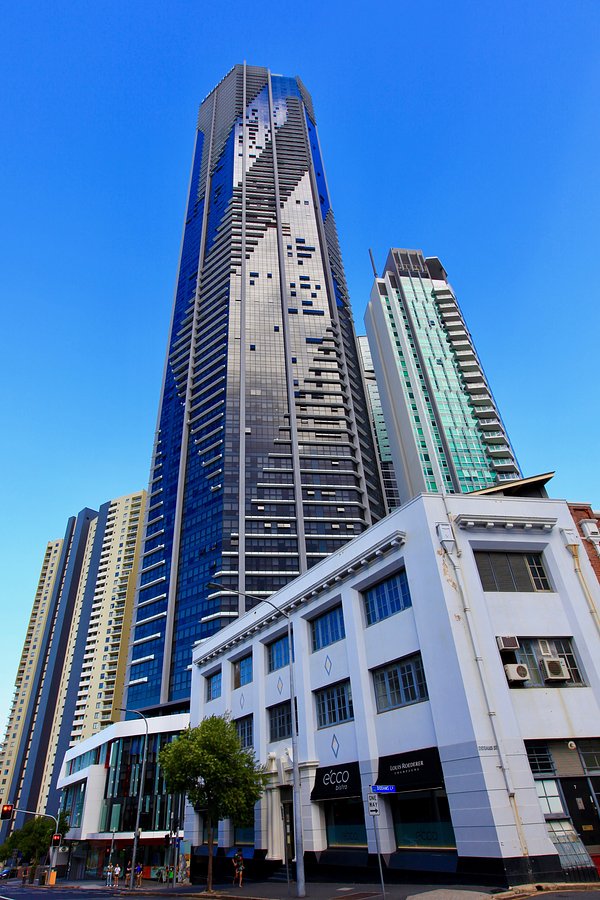 The Challenge
To provide the high level of lateral stability needed for the very slender building form, Architects, DBI Design developed a design that combined very deep foundations with thick 750mm core walls and state-of-the-art active damping technology. A practical solution was needed for the critical lift core connection that could be completed quickly and safely on a very tight schedule, involving 5-day pour cycles.
The Solution
Ancon's reputation and proven expertise in projects of this type meant we were called in to provide the high strength reinforcement continuity solutions needed. Our solution involved a range of different products including cast-in Ancon KSN Anchors with different reinforcement bar lengths and diameters; Ancon Keybox pre-bent bar systems and BT couplers and threading. The pre-engineered systems removed the need for drilling of the slabs and ensured improved safety within the confined spaces of the tower. This design also reduced bar congestion and weight whilst providing guaranteed strength to these critical junctions.
Ancon's Queensland office worked closely with the main contractor, Meriton, ensuring site deliveries were carefully scheduled over the two-year build period to meet the complex construction programme.
Our involvement with this project means we have provided support for 7 of the 10 tallest buildings in Brisbane, including the City's highest, the Brisbane Skytower at 269.6 metres, and second highest, The One, due for completion in 2020.
Need advice on your current project?
Contact Ancon on 1300 304 320 or email info.ancon.au@leviat.com.
As a future-oriented, innovative company, Leviat focuses on the ever-changing requirements of the industry, and our latest development combines the portfolio of Ancon and Halfen Tension Systems to ensure we meet the individual requirements of our customers.
Leviat showcased some of Australia's most trusted and innovative connecting, fixing and anchoring solutions at Sydney Build 2022.