The Use of Stainless Steel
Many of Leviat's products are manufactured from stainless steel. This material offers many advantages to the specifier and its use in the Construction Industry continues to increase. Stainless steel building products ensure a high degree of corrosion resistance without requiring additional protection and are 100% recyclable at the end of a long service life.
The advantages of using Stainless Steel include
Excellent corrosion resistance
Life-cycle costing benefits
60% Recycled content
100% Recyclable
High ductility and strength
Non-magnetic
Excellent high and low temperature properties
Resistance to unsightly staining
Aesthetic surface finish
Recyclability

Stainless steel is 100% recyclable. When a product finally reaches the end of its long service life, it remains a valuable source of its main alloying elements - chromium, nickel and molybdenum. These can be easily recovered and returned to the production process. Stainless steel recycling is an economically viable, self-sustaining process.
There are considerable savings in energy, and reduced CO2 emissions, in production methods which use recycled materials. The amount of recycled material in any stainless steel product is typically 60% and, as scrap availability is the limiting factor, this percentage will increase as the use of stainless steel continues to grow. The raw material produced today will not be recycled for many years.
In addition to a product's end-of-life recycling, any scrap material generated during its manufacture is recycled in the same way. Leviat recycles 100% of its stainless steel scrap so no raw material is wasted in the manufacture of our products.
What is Stainless Steel?
Stainless steel is not a single specific material: it is the name given to a group of corrosion resistant steel alloys which contain a minimum of 10.5% chromium.
The chromium in stainless steel reacts with oxygen in the air to produce a very thin, inert, chromium rich oxide film on the surface of the steel. It is the presence of this film which provides the corrosion resistance of stainless steel. This passive film is unlike coatings such as paint or galvanising in one very important way. If it is damaged by abrasion or mechanical means such as cutting, it re-forms and continues to protect the steel.
Types of Stainless Steel
Leviat has the capability to fabricate all Austenitic, Duplex and Super Duplex stainless steels. Building products are normally manufactured from Austenitic stainless steels.
Austenitic Stainless Steels
All stainless steels have inherent corrosion resistance but the Austenitic group is superior in this respect and is principally used in construction applications. These high chromium steels are ductile and strong. They are non-magnetic and can be readily formed and welded. Higher strengths can be obtained by cold working.
Ferritic Stainless Steels
Ferritic steels are weaker and less ductile than austenitic steels. They are magnetic and their strength can be increased to a certain extent by cold working. Common ferritic steels are comparatively cheap but they cannot be welded in thick sections. Generally, they have poorer resistance to pitting, but superior resistance to stress corrosion cracking than austenitics. If appearance is important, their use should be restricted to indoor applications.
Duplex and Super Duplex Stainless Steels
These steels have a mixed austenitic/ferritic microstructure. They are stronger than austenitic steels but are not as easily formed. They are magnetic and can be welded; their corrosion resistance is better than that of austenitic steels, particularly their resistance to stress corrosion cracking.
Material Specification
The two main grades of austenitic stainless steel used in the manufacture of Leviat products are 1.4301 (304) and 1.4401 (316). Some products may be available in 1.4003 ferritic stainless steel as an alternative to coated carbon steels.
These grades of stainless steel are adequate for almost all construction applications, however grades which have even greater pitting or corrosion resistance can also be supplied.
All plate material meets the chemical composition and mechanical property requirements of the new European material standard for stainless steel, BS EN 10088.
Grade 1.4301 (304)
This austenitic grade is the most commonly used and is suitable for a broad range of construction applications. It typically contains alloying elements of at least 18% chromium and 8-10% nickel. Marginal differences in composition have no significant effect on the material's excellent all-round corrosion resistance.
Grade 1.4401 (316)
This austenitic grade is recommended for highly corrosive areas such as marine locations or heavily polluted industrial environments. The addition of a small proportion of molybdenum (around 2%) and an increase in the nickel content to 10-13% provide a more robust passive film and hence higher resistance to corrosion.
Grade 1.4462
This is a high strength duplex stainless steel with a minimum chromium content of 22%, a nickel content of 4.5 – 6.5% and a molybdenum content of 2.5 – 3.5%. It offers superior corrosion resistance especially against pitting and crevice corrosion.
Information on 'Properties and Working Stresses', 'Effect of Cold Working', 'Bi-metallic Contact' and 'Relevant National Standards' is available in the brochure 'The Use of Stainless Steel in the Construction Industry'.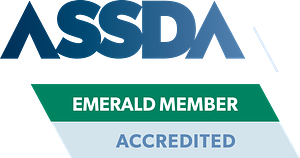 Leviat is both a member and an approved fabricator of the Australian Stainless Steel Development Association (ASSDA).
As a future-oriented, innovative company, Leviat focuses on the ever-changing requirements of the industry, and our latest development combines the portfolio of Ancon and Halfen Tension Systems to ensure we meet the individual requirements of our customers.
Leviat showcased some of Australia's most trusted and innovative connecting, fixing and anchoring solutions at Sydney Build 2022.