Ancon LinkPro high strength loops that make heavy concrete lifting easier
ANCON has launched a range of high strength lifting loops for the fast and safe handling of heavy precast and prestressed reinforced concrete units.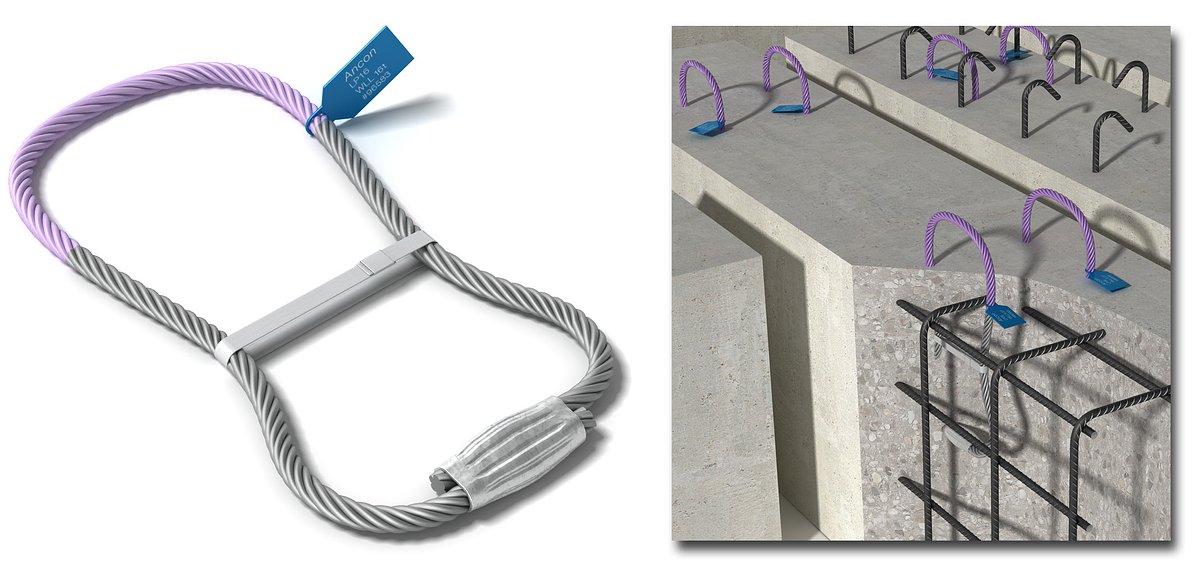 Ancon LinkPro has been designed specifically to suit the size and weight of precast concrete units regularly used in major civil engineering projects, including large bridge and shell beams.
Easy to install without the need for recess formers and with no requirement for special lifting clutches, LinkPro lifting loops are designed for use with standard lifting hooks and shackles, making site handling and installation of concrete sections faster, easier and more cost-effective.
Manufactured from corrosion-resistant, multi-stranded steel wire rope, LinkPro loops generate low bending stresses under load and are suitable for all axial and diagonal lifting applications with a sling angle of up to 60°.
This Ancon system is available in a range of sizes with a Working Load Limit from 4.0 tonnes to 57.0 tonnes. Other sizes are available upon request.
Joined with a heavy duty swaged ferrule, LinkPro galvanised steel lifting loops also feature a colour-coded identification tag, featuring all critical batch and load information, and a painted section which is left exposed after casting to provide an immediate visual check that the correct embedment depth has been achieved; these attributes combine to ensure maximum performance, reliability and safety on site.
LinkPro complements Ancon's already extensive range of high performance lifting, fixing and anchoring systems for the precast concrete sector to provide clients with the widest range of options available for their applications.
The company has nationwide operations. For project-specific product selection and design advice, contact your local Ancon office on 1300 304 320 or complete our online enquiry form.
As a future-oriented, innovative company, Leviat focuses on the ever-changing requirements of the industry, and our latest development combines the portfolio of Ancon and Halfen Tension Systems to ensure we meet the individual requirements of our customers.
Leviat showcased some of Australia's most trusted and innovative connecting, fixing and anchoring solutions at Sydney Build 2022.