HALFEN POWERCLICK Modular Pipe Support Systems
Available in Australia exclusively from Leviat, HALFEN POWERCLICK is a pre-assembled, durable, safe and highly adaptable modular pipe support solution for various loads and piping applications.
The HALFEN POWERCLICK range includes a wide range of modular pipe support systems, pipe clamp & shoe accessories in different finishes. All POWERCLICK framing channels and bolts are toothed and form an interlocking connection. Clamshell design connectors provide excellent load transfer, in both shear and moment.
Developed for the chemical industry nearly 20 years ago, HALFEN POWERCLICK offers an innovative, time and cost saving alternative to traditional pipe supports made from secondary steel. It is manufactured from highly corrosion resistant hot-dip galvanised steel (S235JR). The zinc coating layer of > 50µm provides a nominal service life of 25 years, assuming an annual zinc loss of 2 µm (corrosivity category C4).
Key Features and Benefits
Only four pre-assembled core POWERCLICK components
Three channel sizes – fully interchangeable
One pre-assembled bolt for all inter-connections
Lightweight with a high torsional rigidity
Modular and adjustable
No welding on site
Lower material stock levels
Time and cost saving
Load calculations according to EC3 and EN 13480-3
3D design software tools available to simplify the planning process: Aveva PDMS & E3D, Intergraph Smart3D, various 3D parts and assemblies libraries
Pipe enclosing components like pipe shoes and clamps are available from the POWERCLICK accessory range and a comprehensive range of cantiliver arms completes the POWERCLICK range.
System Components
Only four core lightweight components from the POWERCLICK 63 system can form a multitude of supports, Goalposts, L or T shapes, etc, and they can all be handled manually, without the need for special tools or lifting equipment.
POWERCLICK Base Plate
One base plate in three sizes fits any standard beam flange width from 75–300mm. The base plate opening fully encloses the channel and is attached to the steel structure using a universal beam clamp. The base plate can also be attached to concrete using a post drilled anchor from the HALFEN range. The channel slot can be positioned to face in any direction, by simply changing the location of the bolts in the base plate.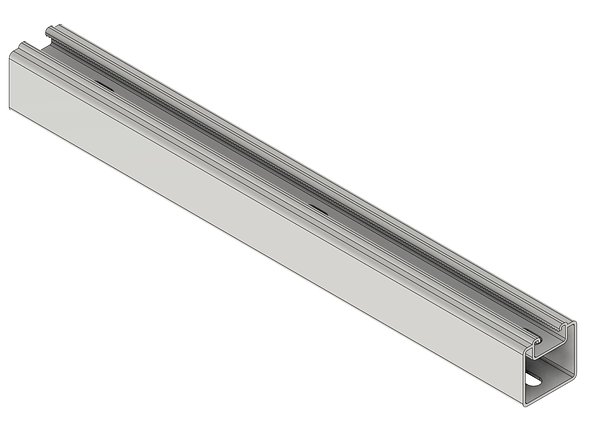 POWERCLICK Framing Channel
The toothed, slotted framing channels are available in 3 and 6 m standard lengths. A 41/22 channel is laser-welded into the 63/63 section. This closed profile resists a moment of torsional inertia equal to a steel HEB 160 beam, with much less weight.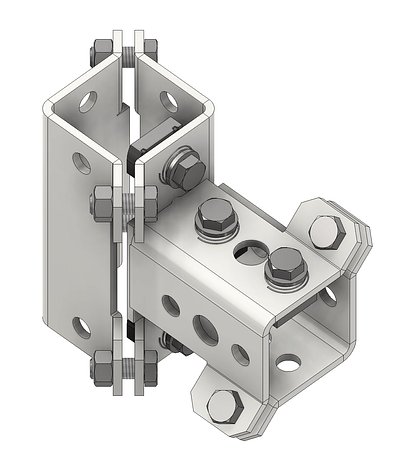 POWERCLICK Elbow Connector
Only 2 types of elbow connector are required to make nearly any type of support shape in the POWERCLICK 63 system. The elbow connectors fully enclose the connecting framing channels. By changing the positioning bolts of the elbow connector, the channel slot can be easily made to face in the required direction. Teeth in the channel and on the POWERCLICK bolts provide a slip-resistant mechancial connection.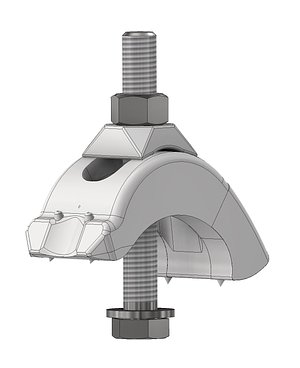 POWERCLICK Beam Clamp
The universal POWERCLICK beam clamp adjusts to fit any beam with a flange thickness of 5-40mm. The four hardened teeth bite into the flange without affecting the corrosion protection, providing positive load transfer.
As a future-oriented, innovative company, Leviat focuses on the ever-changing requirements of the industry, and our latest development combines the portfolio of Ancon and Halfen Tension Systems to ensure we meet the individual requirements of our customers.
Leviat showcased some of Australia's most trusted and innovative connecting, fixing and anchoring solutions at Sydney Build 2022.